100ft x 122ft
Home of the:

Craft Fair
Auctions
Expos
Beefsteak Dinner
Dog shows
Festivals
During the Fair the Richards Building houses:
Art in Sussex County Art Show
Photography in Sussex County Photography Show
Honey Show and Exhibits including live bee demo by Sussex County Beekeepers
Grange Exhibits
Fair History Committee Exhibits
Creative Arts for Home and Hobby- canning, baking, crafts, Quilts of Valor, demonstrations, Hobby Weekend
Richards Building Renovation Project
ANNOUNCING THE DEBBIE COWELL MEMORIAL FUND
To Benefit The Richards Building Renovation Project
It is the wish of husband JC Cowell that anyone who would like to make a donation of any size to the project that Debbie was so dedicated to could have the opportunity. Therefore if you were her friend, co-worker or want to support this project that meant so much to her, you may do so by sending donation to the Fair Office.
Please make donations payable to:
The New Jersey State Fair (with Richards Building Project on Memo line)
Mail to: New Jersey State Fair, PO Box 2456, Branchville, NJ 07826 and include your name and address so we may thank you.
Thank you very much.
The Richards Building Fundraising Committee
Please do NOT provide credit card info on the Contact form.
Does your organization need a space for an event that's convenient and well-known? A space that's available any month you choose? Perhaps your family needs a place for a reunion, or a landmark birthday? The Richards Building Renovation Committee is working to provide such a venue at the Sussex County Fairgrounds by upgrading the "big blue building" to accommodate events year round.
The Richards Building is the 40-year-old building which houses so many exhibits during the Fair. The only building in existence when the Fair came to Plains Road, the Richards Building is used heavily throughout the year as well as Fair week by many groups. Included in these groups are a number of non-profit organizations. All of this takes its toll on the facility.
Existing Richards Building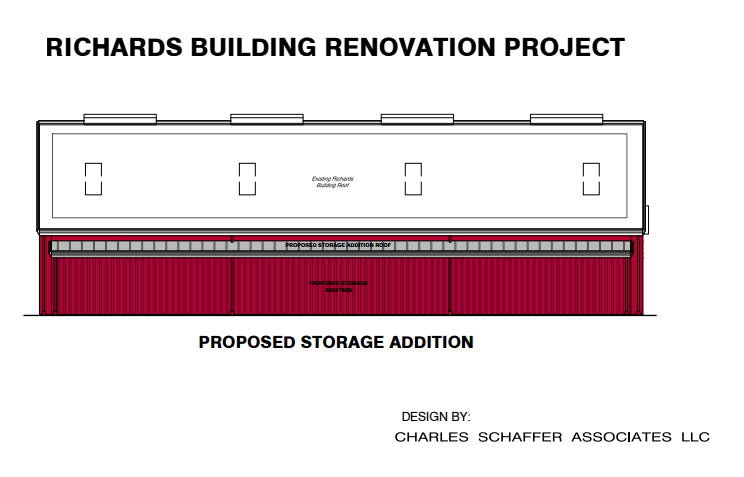 Proposed Addition Elevation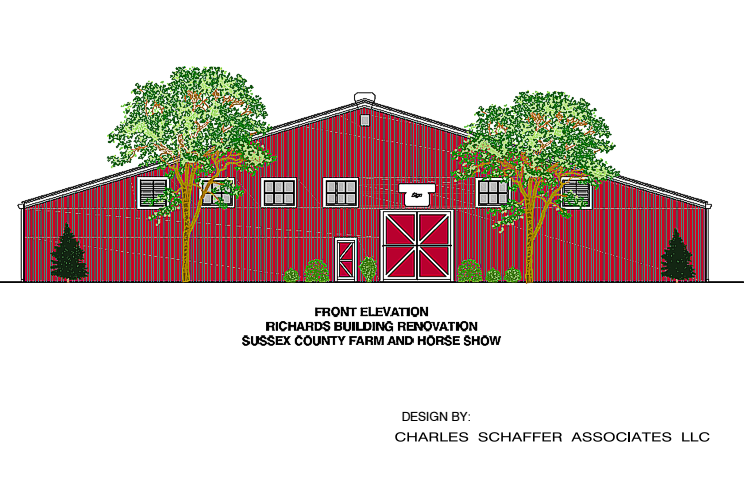 PROGRESS ON THE RENOVATION PROJECT
July, 2017
A new 2,000 sq. ft. addition has just been finished to the Richards Building and the new RED siding indicates big changes to come. Display items formerly stored inside will now be placed there after the fair is over, leaving more floor space in the main building. Phase 2 is now complete. Right after the 2017 Fair is over, construction will be started on Phase 3, the main building itself. Major improvements will be made: new barn red exterior siding & thicker insulation, better& quieter fans, LED lighting, added windows for improved interior light, new doors and lastly, new flooring. Most important of all will be the addition of radiant heating for year-round use of the building. Year-round usage will happen.
The above would not be possible without the hard work and commitment by the Richards Building (Fundraising) Committee, which was appointed by Fair president Harold Pellow in the Fall of 2015. Since that time, this group of 12 people have raised money by organizing fundraisers, many planned for coming years until the project is paid for. With the boost of a $100,000 matching grant from an anonymous donor, the committee has raised more than $224,000. A second Artisan Faire will be held next May 4th to will continue to raise money. The first one this April was an astounding success, as was the first-ever drive-in Clothing Drive, created by Julia Richards, a great-granddaughter of Walter Richards after whom the building was named. The next will be held on October 28th.
The "100 Diamonds Fund" was created by Project Coordinator Lois Pellow to raise money for this capital project. Its main goal is to acquire donors of $1,000 or more, who receive public recognition and other benefits for their support and generosity. Thus far, 56 donors have given almost $120,000, in addition to $15,000 in signed pledges. Community support has shown that people want to help renovate the NJ State Fair's oldest, largest and most versatile building for the community. More donors are always welcome. Contact the fair office.
100 Diamond Donors are being recognized on two Donor Boards on the Richards Building. Take a good look at the many wonderful people and groups that have stood behind this project and thank them for their amazing community spirit. Also view the DVD on the project in the Fair History exhibit. It shows how this project is evolving and the contractors and volunteers who are part of it. It's how every fairgrounds capital project gets done in the old-fashioned way of working together for a common cause. Look for lots of improvements to the Richards Building in the coming year. A brand-new building will be seen.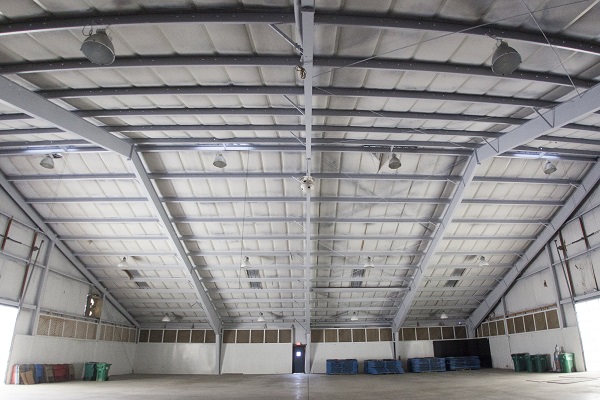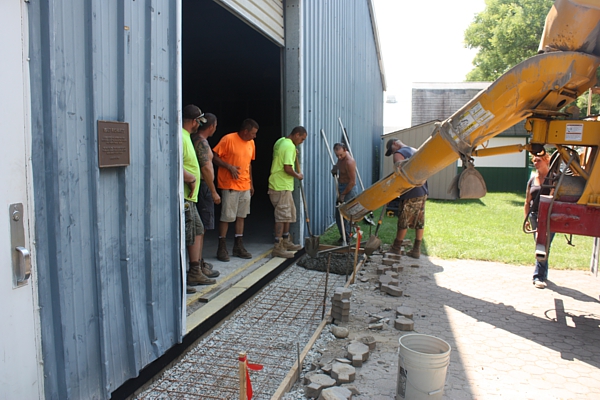 Thank you to the 100 Diamonds Fund Donors
(As of June 20, 2017)
THIS FUND REPRESENTS MANY LEVELS OF DONATIONS TO THE RICHARDS BUILDING RENOVATIONS PROJECT, WITH A MINIMUM OF $500 GIVEN.
PLATINUM LEVEL
Anonymous Donor
GOLD LEVEL
Selective Insurance Group Foundation
In Memory of Margaret Hait
Harold E Pellow & Associates
SILVER LEVEL
Sussex County Beekeepers
Art In Sussex County
Springfest Garden Show
The Lange Family (Rob, Denise, Brian, Sean & Nicole)
Home & Hobby Committee
In Memory of Thomas J Bain
BRONZE LEVEL
CKW Advisors, LLC
100 DIAMONDS
Advanced Group.Net
Thorlabs
Aldo & Nancy Sayre
Harold & Lois Pellow
Steve & Lynn Okeson
Sparta Kiwanis
Fair History Committee
Mary & Paul Emilius
Kennel Club of Northern New Jersey
Peggy Cofrancesco
Charles Schaffer Associates
Sussex County Horse Show
Brian & Rosamond Lockwood
Lakeland Bank
Beverly & Bruce Gordon
Dr Scott J Ruvo
Sussex County 4-H Teen Council
Doris & Howard Worts
Ronald & Denise Stagnari
Newton Kennel Club
In Memory of Lois Chammings by the Ag Division
C&W Aero Services
Lois Chammings Memorial Fund
Elenora L Benz
The Ruggiero Family/Iliff Ruggiero Funeral Home
Brodhecker Farm
Tri State Insurance Agency
The Chatterbox
Sussex County 4-H Rabbit Clubs/In Memory of Lois Chammings
Granges of Sussex County
Julia Richards & Family
Partridge Ridge Farm
Ralph Anthony
North Jersey Antique Engine & Machine Club
Deacon Homes, Inc
Daniel & Carolyn Kent & Family
Carol Decker/Wildlife Art Studio
Barbara O'Neill
Garden State Koi/Ponds & Waterfalls
Sam Castimore
Sussex County Amateur Radio Club
William & Laura Cowan/Willco AC, Htg & Refrig
Newton Rotary Club
Branchville Rotary Foundation
Don & Julie Becker
David Wright, Landscape Architect
In Memory of Thomas J Bain, Our Partner & Friend
In Memory of Debbie Cowell
FRIENDS OF THE FAIR
Frank Flood, Jr/World's Best Sundae
Lois H Wright
Hollander, Strelzik, Pasculli, Pasculli, Vandenberg & Hontz, LLC
Richard L Martin
Jacob & Lorraine Perry
100 DIAMONDS FUND TO DATE: $217,196
Vendor Payments or Donations